KIDS COUNT
The Center for Public Policy Priorities is the Texas home to KIDS COUNT, a national and state-by-state effort to track the status of children in the U.S. funded by the Annie E. Casey Foundation. In addition to publishing annual reports, the center also offers access to an interactive, comprehensive database of county-by-county and state data on child well-being.
---
Recent KIDS COUNT Publications

With One of Every 11 Kids Calling Texas Home, New Report Ranks State Low for Child Well-Being (07/25/2012)
Texas ranks 44th among the states in overall child health and well-being, according to data released today by the Annie E. Casey Foundation in its 2012 KIDS COUNT Data Book.

Click here to the full presentation on the KIDS Count Data Book.

Click here to access our webinar recording on the KIDS COUNT Data Book (audio and visual).

Choices: The Texas We Create | 2012 State of Texas Children Data Book (04/5/2012)
The 2012 data book explores how our kids have fared during the last decadeâ€"some outcomes are positive, some negative. But positive or negative outcomes for kids don't just happen. They are the inevitable results of effective or failed policy choices. The State of Texas Children 2012 combines data and policy to tell the story of Texas kids. It's time we learn from our past choices, positive and negative, so that we can shape a different story for our future.

KIDS COUNT Data Snapshot on Children Living in High-Poverty Communities (02/23/2012)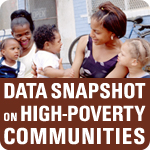 In its first data snapshot of the year, the Annie E. Casey Foundation's KIDS COUNT explores the increased number of children living in America's high-poverty communities. Texas has the 4th highest number of children living in areas with 30 percent of residents or more living below the poverty line at 17 percent. And of the 20 cities with the highest rate of concentrated poverty, three are located here in Texas: El Paso, Dallas, and Houston.
View All Articles by Year:
1995 |
1996 |
1997 |
1998
|
1999
|
2000
|
2001
|
2002 |
2003 |
2004
|
2005
|
2006
|
2007
|
2008
|
2009
|
2010
|
2011
|
2012
|
2013 |
2014 |
2015 |
2016 |
2017 |
2018 |
2019