KIDS COUNT Data Snapshot on Children Living in High-Poverty Communities
Author:
Frances Deviney
/(512) 320-0222 x 106
February 23, 2012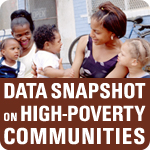 In its first data snapshot of the year, the Annie E. Casey Foundation's KIDS COUNT explores the increased number of children living in America's high-poverty communities. Texas has the 4th highest number of children living in areas with 30 percent of residents or more living below the poverty line at 17 percent. And of the 20 cities with the highest rate of concentrated poverty, three are located here in Texas: El Paso, Dallas, and Houston.
The snapshot includes the latest concentrated-poverty data for states and for the 50 largest cities, as does the KIDS COUNT Data Center, a source for the most recent national, state and local data on hundreds of indicators of child well-being.
Read the report
State and city data
County data